THESE ARE SOME RARE FINDS
CHECK OUR PREMIUM SECTION!
SET YOUR ALARM TO 8PM

NEW ITEMS DROP EVERY WEDNESDAY, FRIDAY AND SUNDAY!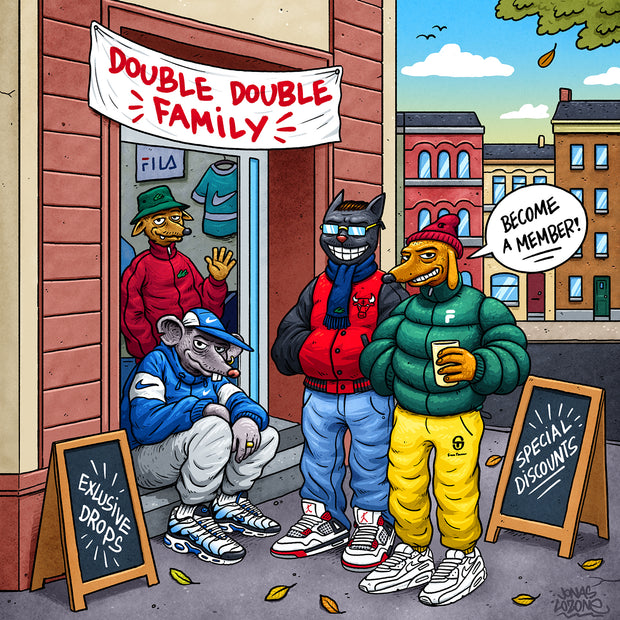 Become a member of the Double Double Fam!
Become a family member to receive access to secret drops, exclusive discounts, special content and more. You can join by simply creating an account through the link below. If you already have an account, you can login and check if you're already a family member or not.
Love for the Games
Vintage Sports Merch & Jerseys
Fast Shipping

Order until 1PM and your Order will be shipped today!

Secure Payment

Choose from multiple Payment Options such as Paypal, Apple Pay & Co

Not Happy with your order?

Easily return your order within 14 days
Visit Our Store in Mannheim!
Browse through tons of
hand curated
vintage pieces or hang out with your friends and play some
video games
. Follow our Store Account on Instagram for all Updates around the store, events and exclusive instore products:
doubledoublevintage_store
Opening Hours
Tuesday - Saturday: 13:00 - 19:00
This past weekend we had the chance to convert an old Tram into a riding Vintage Shop. The Tram h...

Wir öffnen die Tore zu unserem Warehouse für euch! Bei unserem ersten Vintage Lagerverkauf erwar...

Ab jetzt veranstalten wir jedes erste Wochenende im Monat einen Kilo Sale im Hinterraum unseres...
The Home of Vintage Sportswear
With deep routs in Basketball our portfolio offers a variety of authentic Handpicked Sportswear Goods from the 90s and early 2000s. You'll find products from all Major Sports Leagues in our selection: Vintage NBA T-Shirts, NFL Sweaters, Soccer Jerseys and gems from the MLB, NHL & Co. As we love the 90s, our selection also includes Items from popular sportswear and heritage brands like Nike, adidas, Polo Ralph Lauren, Fila & more as well as items with popcultural references such as Movies, Music, TV-Shows and Cartoons, so you'll find Vintage Band Shirts alongside Sweaters and Shirts from Harley Davidson, Looney Tunes Gear and more.
Make sure to check out our Premium-Section for some rare Vintage Collectibles that we carefully source for you on a regular basis & usually are super hard to find. Another Special Offering is our Deadstock Vintage Section, where you'll find brand new, unworn Vintage items - most of them still with the Original Hang Tag on.
Every Item is handpicked by us!
With our selection we're offering a unique variety of
hand curated
Vintage Pieces, as we spend the most time of our week looking for the best possible products for you. Every product in our shop is hand selected by DDV Founders
Simon & Niklas
and only available once, so chances are you won't see anyone else in your town wearing the same one.
As we strive to give you the best possible shopping Experience, every item is checked for Authenticity and Quality before it enters our process of Washing, Grading and Uploading. Our dedicated Grading Team makes sure the Condition and any major flaws are showcased through the Product Pictures and Details. While we're aiming for full Transparency, we also feel like minor flaws and stains are part of the Vintage Charme and don't necessarily make an item less wearable or valuable.
Vintage Over Everything
Why should you buy Vintage? It's clear to us. There's no feeling like finding that one Vintage T-Shirt you've never seen before and didn't even know you needed. While modern Clothes are produced in massive quantities, Vintage Shopping offers a truly unique Experience.
Every Vintage Item is unique and has a Story. Whether it's the Print, the Heavy Embroidery or that Perfect Fademodern fashion companies desperately trying to recreate but fail. Unlike today's fashion, Clothes from the 90s were made to last and usually have way better Quality. That's why you'll find a lot of "Made in USA", Heavy Cotton Fabrics and Quality Materials among our Products. As you can see, there are many reasons, why you should buy Vintage and we didn't even start talking about Sustainabilty.